Eeyore's Cottage: Every Child's Dream
As a child, I always wanted to emulate the adventures of some of my favourite, loveable book characters and the thought of stepping into the magical worlds of some of my best-loved authors; to go on a quest with some of my most cherished childhood friends was something I longed for.
I grew up reading the likes of Enid Blyton's The Faraway Tree series where I could simply climb a tree and wander into a world filled with different magical characters all up for a new adventure as well as A.A. Milne's Winnie the Pooh, which would lead me to the bottom of my parents garden in the hope that I would stumble upon my very own loveable 'silly ol' bear' just like Christopher Robin did. 
So imagine my delight when we discovered Eeyore's Cottage, the one-time home of the real-life Christopher Robin.
Found in the peaceful hamlet of Embridge, just a short drive from Dartmouth, book nerds will find their very own slice of heaven.  This idyllic little cottage, purchased by A.A Milne's son, Christopher Robin back in 1964 is the perfect place to get away from it all.
Christopher Robin himself purchased the cottage to escape the pressure that his father's fame attracted with his honey-loving bear in order to get away from it all highlighting that the cottage now known as Eeyore's Cottage is the perfect little hideaway, it even comes with its very own stream out front where you can compete in your own game of pooh sticks.
Why Everyone Should Book a Stay at Eeyore's Cottage
Eeyore's cottage is unlike any other we have ever stayed in.  Driving along the narrow, quiet county roads you quickly get the sense that a tranquil stay is only minutes away.  Clustered with just a few other neighbours, Christopher Robin's one-time home may be right on the roadside but don't let that put you off, the most you will experience trundling past is the occasion tractor heading out to the nearby farms or the odd car travelling back from the local beach.
However, whilst the local surroundings of the picture-perfect Blackpool Sands and the numerous country walks are a definite pull, it is inside that won our hearts.
Lovingly restored by the current owners, Wendy and Stan, the once dated property has been propelled into the 21st century with a new open-plan design. 
Wandering in through the stable door, something I have personally always wanted if we were ever lucky enough to purchase a cottage of our own, you are immediately drawn to the high-quality refurbishment that has taken place.
From the cute little seating area created in an alcove right by the front door to the open-plan, kitchen and living space filled with high quality, luxury finishes is an interior designer dream.  The entire cottage has been decorated in neutral colours but thanks to the keen eye of the owners, the accessories have helped to create anything but a bland space.
For traditionalists out there, do not fear, the historical nature of the cottage has not been comprised, but instead accentuated.  Mixed in with the modern fittings and fixtures you could see that other elements of the cottage had been respectfully restored.   From the exposed wooden beams, the quirky wonky floorboards and the small doorways down to the window seats that still exist in nearly every room, there was no denying the fact that we were still enclosed within the walls of an old, stone-built home.  Even the very modern log burner, which was the main feature in the downstairs living space, was surrounded by exposed brickwork and remained in keeping with the original features. 
The owners of Eeyore's cottage have managed to achieve something very special – mixing the old with the new – to create a warm, welcoming holiday home that actually feels like home.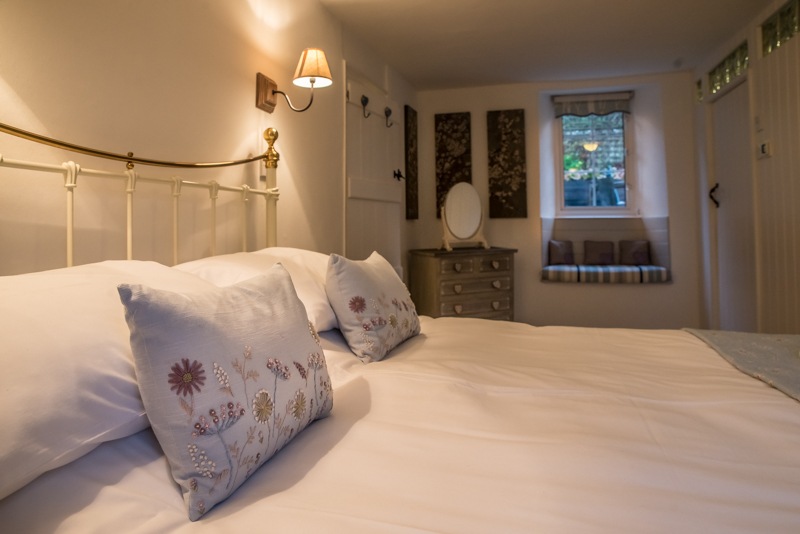 A Mini Break Linked to A.A. Milne Is a Must
For us, whilst we initially booked a stay at Eeyore's Cottage because of the link to one of my all-time favorite characters, Winnie the Pooh, we also wanted to stay somewhere relaxing.  It is so easy to get mixed up in modern-day living that we forget the importance of spending quality time together.  Eeyore's cottage offered us a slice of the good life.  Not only was it remote, phone signal was limited which meant that we had no choice but to spend our days reading, chatting and wandering around the wonderful countryside.     
There was, of course, wifi available, but the whole point of our breakaway was to explore the area instead of becoming a slave to the modern-day trappings we have all now become accustomed to.  It was refreshing to spend a few days without social media and instead simply enjoy the local area.
In fact, we both agreed, that if we could, we would happily live permanently in Christopher Robin Milne's onetime home.  Why?  Because we absolutely fell in love with both the location and the thoughtful way the cottage had been brought into modern times. 
What to do When Visiting Eeyore's Cottage
Blackpool Sands
Set in a sheltered bay, this unspoilt beach is within walking distance of the cottage.  With its wind shingle beaches, this is the perfect place for a family to relax when the weather is good and because the waters surrounding the bay are so calm it is the ideal place to try paddleboarding or go kayaking. 
Should you want refreshments whilst at the beach, the Venus Cafe has long been a favourite stop off for both locals and tourists alike and offers everything from a breakfast butty to a full lunchtime menu and traditional cream teas.
Dartmouth
Being just over 2 miles away from the cottage, Dartmouth is the perfect place to visit when civilisation is once again calling.  Here you will find delightful little tea rooms, bakeries with freshly baked bread and cakes and independent shops for you to browse in.
For lunch, we highly recommend Rockfish on the harbour front that offers possibly the widest selection of fish dishes we have ever seen and unlimited chips.  It is one of the best fish and chip restaurants we have ever visited.
Greenway
For lovers of possibly one of the greatest crime writers of all time, a visit to this part of the country would not be complete without spending time at Greenway, home of Agatha Christie.  This was her holiday home which she would visit whenever she wanted to get away from her very public life and was known locally not as Agatha Christie but as Mrs Mallowan. 
For us, Eeyore's Cottage was the perfect place to stay.  Peaceful, yet within walking distance to coffee shops and restaurants, close to larger towns giving us the ability to explore when we wanted to but secluded enough which afforded us the tranquil laid-back holiday we desired.  There is no question in our minds, we will be returning to Eeyore's Cottage again in the future when we once again need to recharge our batteries.
Would you choose to stay at Eeyore's Cottage?  Perhaps you have stayed somewhere similar that you believe we would enjoy visiting.  If so, please let us know.
We would like to Thank both Wendy and Stan plus the Team at Classic Cottages for helping to arrange our visit to Eyeore's Cottage.  As always, whilst this was a sponsored stay, all views and opinions are our own.  We would never recommend anywhere we would not be happy to return to ourselves.
Did you enjoy this article?  Then PIN it for later…